Miami Airport Arrivals (MIA)
Not all flights may be showing. If not available use search above to find your flight by airline, airport or flight number.
Origin
Airline
Flight no.
Scheduled
Est./Actual
Status
Panama City (PTY)
Copa Airlines
CM432
01:35
Scheduled
Liege (LGG)
LATAM Cargo
UC1521
01:36
Scheduled
Medellin (MDE)
Avianca Cargo
QT724
02:20
Scheduled
Bogota (BOG)
Avianca
AV8 expand_more(1)
04:00
Scheduled
Bogota (BOG)
United Airlines
UA6699
04:00
Scheduled
Bogota (BOG)
Avianca Cargo
QT706
04:00
Scheduled
Los Angeles (LAX)
JetBlue Airways
B62085 expand_more(2)
04:40
Scheduled
Los Angeles (LAX)
Hawaiian Airlines
HA2104
04:40
Scheduled
Los Angeles (LAX)
TAP Air Portugal
TP4583
04:40
Scheduled
Buenos Aires (EZE)
American Airlines
AA900
05:00
Scheduled
Sao Paulo (GRU)
American Airlines
AA930 expand_more(1)
05:00
Scheduled
Sao Paulo (GRU)
GOL Linhas Aereas
G36008
05:00
Scheduled
No flight arrivals were found at Miami Airport.
Flight Arrivals at Miami Airport
Miami International Airport consists of one terminal with eight concourses. You will be greeted with all the facilities that you may require, as Miami Airport has Post Offices, news stands, chapels, Bank of America ATM's, ice-cream parlors and more than 50 restaurants and 30 shops available around the airport's concourses.
Domestic and International flight arrivals are in different sections of the airport. If you are arriving on a domestic flight, then you will be on Level 2. The Baggage Claim area can be found by taking the elevator or escalator down to Level 1. Outside the Baggage Claim area you will be able to find your car rental company's shuttle to escort you to your rented car or to find a taxi to drive you to your required destination.
Miami International passengers arriving at Concourse E will proceed to U.S. Customs and Border Protection's Passport Control. Once cleared at Customs, passengers will be on Level 1 of the Terminal. Passengers can now proceed to collect their luggage. The Interline Lobby is located directly outside Customs, and here passengers can re-check their luggage if they need to continue to a connecting flight. On Level 1, passengers will also find the car rental counters. Take note that passengers from Canada or the Bahamas do not need to be cleared at U.S. Customs.
International Arrivals at Concourse J will exit U.S. Customs on the 3rd Level of the South Terminal. If you need access to your connecting flight, then take the elevator to Level 2. Otherwise, proceed to Level 1 for baggage collection, rental cars and ground transportation.
Filling out your Federal Inspection Forms correctly can save a lot of time. There is assistance in various languages should it be required. Copy the information on your airline ticket for sections asking for your Airline, flight number and originating city. The hotel name or city where you will be staying is adequate for the U.S. Address. Complete all of the Customs' forms even if you have nothing to declare. Ensure to fill in the departure record on the bottom of the I-94 form and the back of the green I-94 forms. Sign the form and date it.
Emergency and medical services are available at Miami Airport. Simply dial 911 from any phone. The Airport Police Station can be found in Concourse B.
If you are required to change flights or board a connecting flight, then check the departure monitors to see the status of your next flight.
When navigating your way out of Miami International Airport, various services can be used. Go down to Miami Beach via taxi, shuttle van, train, bus or limo!
Was your flight delayed or cancelled?
You may be eligible to receive up to 600 EUR compensation per person in your party..
Claim Now!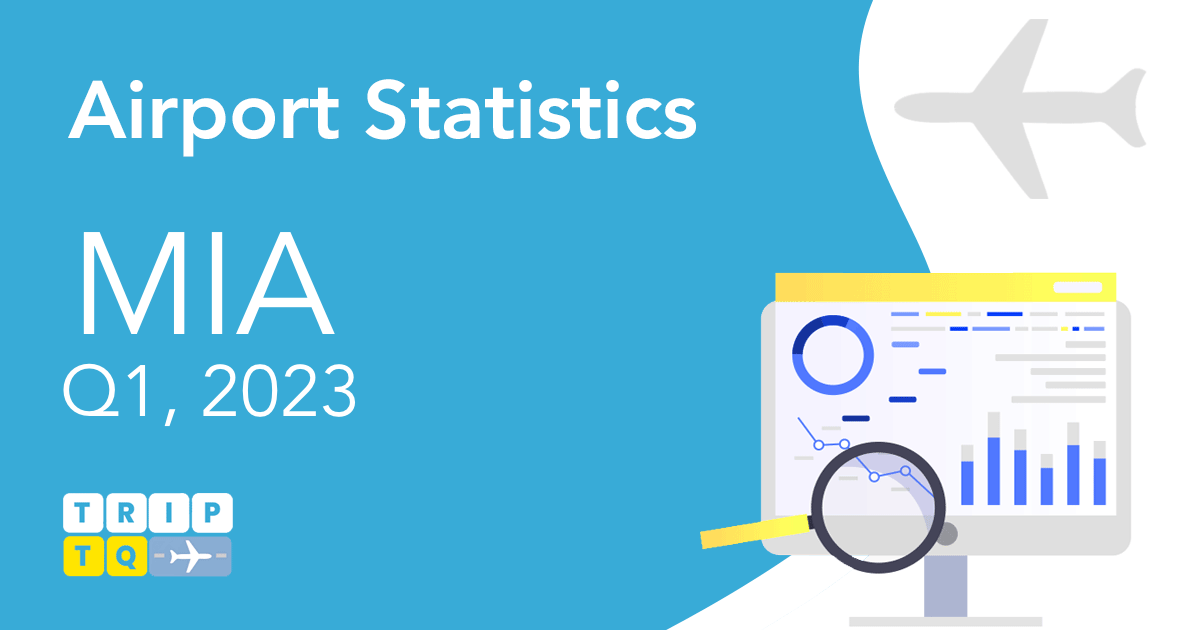 Miami Airport experienced a notable increase in passenger numbers during the first quarter. There was a growth of 7% compared to the same period last year. Compared to the pre-pandemic period in 2019, the numbers performed even better, with an increase of 11%.