Miami Airport Departures (MIA)
Not all flights may be showing. If not available use search above to find your flight by airline, airport or flight number.
Destination
Airline
Flight no.
Scheduled
Est./Actual
Status
Lima (LIM)
LATAM Airlines
LA2699 expand_more(2)
01:30
Scheduled
Lima (LIM)
Delta Air Lines
DL6124
01:30
Scheduled
Lima (LIM)
Virgin Atlantic
VS7748
01:30
Scheduled
San Juan (SJU)
Northern Air Cargo
NC802
02:00
Scheduled
Quito (UIO)
Avianca Cargo
QT4231
02:15
Scheduled
Bridgetown (BGI)
Caribbean Airlines
BW791
03:00
Scheduled
Panama City (PTY)
LATAM Cargo Colombia
L72523
03:35
Scheduled
Bogota (BOG)
Skybus
IOS59
04:00
Scheduled
Campinas (VCP)
Avianca Cargo
QT851
04:00
Scheduled
No flight departures were found at Miami Airport.
Flight Departures at Miami Airport
Booking online is the easiest method for obtaining your departure flight from Miami International Airport. When booking online you can book directly from the airline's website or compare various flight options with an online travel agency. Often you are rewarded with frequent flyer miles if you book with the airline directly. If you book via an online agency, they will have flight options from all the carriers enabling you to select the best price and schedule for your requirements. hey will also have access to hotel room bookings and you could save on costs by booking your flight and hotel room together as a bundle.
Miami International is served by a vast number of different airline carriers. The following are a few airline options that serve the airport: British Airways, American Eagle, Comair, Gulfstream International, Virgin Atlantic, US Airways, Swissair, United, Lufthansa, Air Canada, Air Jamaica, Air France, Continental and Cayman Airways.
Try to organize your carry-on bag effectively to avoid delays at the check-point security. For example, pack a layer of clothing, then small electronics, then some more clothing and lastly heavier items. Large electronics such as laptops, video cameras and DVD players should be packed in checked luggage whenever possible. Items like these in your carry-on bag will need to be removed and separately submitted for x-ray screening. If you are unsure if any item will pass the checkpoint, rather leave it in your checked bag or at home.
There are some advantages in having only carry-on luggage:
No lost luggage
No delays in baggage retrieval
Your luggage is with you if your flight is delayed or cancelled, or if you've missed your connection flight
Your packed items are safe from breakage
Advantages of having checked luggage:
You are able to take with you more and heavier luggage.
There are many restrictions for carry-on luggage.
No battling to find space in the airline overhead bins.
When dressing, keep jewelry to a minimum and avoid clothing with metal buttons or studs as this can set off the metal detectors. If the metal detector alarms, then additional screening will be necessary, including a hand-wand and pat-down inspection. All shoes need to be removed before entering any walk-through metal detectors, therefore wearing slip-on shoes will help to quicken the process. Baby carriers and strollers need to be separately screened. Take your children with you through the metal detector and collapse the stroller. Have your boarding pass and Identification readily available for the Security Officer's inspection.
It is recommended that you arrive at least two hours prior to your flight. Make sure you allow adequate time to find parking and your proper departure location. Always continue to check your flight's status to ensure that it is not delayed or cancelled. All major airports have live display monitors indicating the status of each flight.
Was your flight delayed or cancelled?
You may be eligible to receive up to 600 EUR compensation per person in your party..
Claim Now!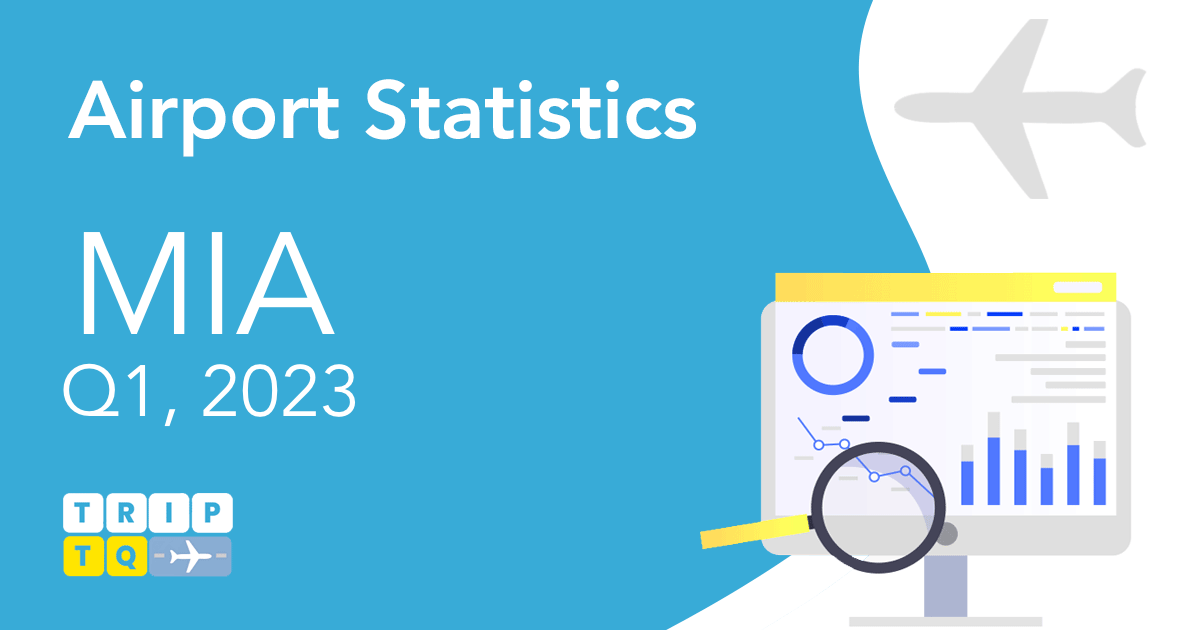 Miami Airport experienced a notable increase in passenger numbers during the first quarter. There was a growth of 7% compared to the same period last year. Compared to the pre-pandemic period in 2019, the numbers performed even better, with an increase of 11%.